When pain is changing your life, it can be frustrating. It can also be discouraging when there doesn't seem to be a remedy. After feeling this way for years, Mary was beyond grateful when she came to OSMS in 2017.
In 2004, Mary suffered a labral tear in her shoulder. After three years of pain, she went to Milwaukee to have it fixed. Unfortunately, it didn't turn out as planned.
Mary says, "The surgery went fine, but they used a pain pump afterward, which was reserved for only cosmetic surgery by the FDA that very month. The pain pump medication, sent directly into the joint, deteriorated my cartilage and resulted in severe arthritis."
Now, on top of the labral tear pain, Mary was dealing with arthritis pain. She did not give up her search for a remedy but continued to be frustrated. She went through several more procedures in the ten years following her first surgery but was never satisfied with the results. The 13 years of pain continued to add up. As it did, her quality of life continued to spiral down.
"By 2017 the pain was so severe that I was holding my arm up like a T-Rex throughout the whole day and couldn't do things like put on deodorant, brush my hair, tuck in a shirt, or even pick up a full coffee cup." Mary says. Scheduled for yet another surgery, she hoped it would finally be the answer to her pain and mobility frustrations.
It wasn't. The surgery was called off because Mary's MRI showed too much deterioration in her shoulder to perform the surgery.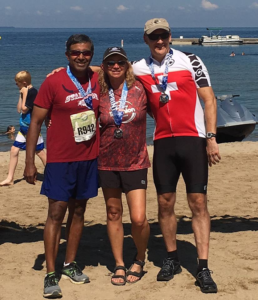 Would Mary's pain continue? Would Mary's mobility continue to deteriorate? Would she have to hold her arm like a T-Rex close to her body the rest of her life?
No. Finally in 2017, a friend referred her to OSMS. Dr. Zellner told her he could do a total shoulder replacement, and that replacement would ease her pain, increase her mobility, and get her back to the life she loved.
"My experience with OSMS was fantastic from the beginning. All my questions and concerns were addressed; they got me in during the same time I had already taken off from work for Christmas break. I was completely comfortable with the whole experience and thrilled with the results." Mary explains.
The shoulder replacement Dr. Zellner performed changed Mary's life. No longer in pain and no longer limited in her mobility, Mary is able to swim again, compete in triathlons, participate in martial arts classes, and is also able to bring a smile to the faces of kids at the Boys and Girls Club by pushing them on the swing, and helping them on the monkey bars – things she couldn't do before.
She said, "I can sleep now without figuring out the pillow placement throughout the whole night. Most importantly, I am no longer walking around carrying my arm like a T-Rex."
For anyone questioning whether OSMS is the place for you, Mary says "I would certainly recommend OSMS to anyone experiencing quality of life issues. I only wish I had gone there sooner so I could have gotten back to living years earlier."
We are thrilled to see you back to living the life you love, Mary!