The Orthopedic Surgery Center of the Fox Valley (OSCFV), a joint venture between Ascension Wisconsin and Orthopedic & Sports Medicine Specialists (OSMS), is now open.
The ambulatory surgery center is located within the OSMS Fox Valley clinic, which opened on August 31, 2020, at 1205 West American Drive in Neenah.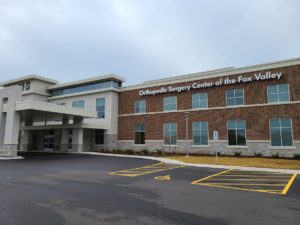 The Orthopedic Surgery Center of the Fox Valley has four (4) operating rooms with the latest surgical technology and six (6) extended stay rooms for patients who have joint replacement surgery and require additional observation. Patients will have full access to outpatient orthopedic procedures, such as arthroscopies (scopes), ACL repairs, rotator cuff repairs, fracture care, carpal tunnel release, total joint replacement and more. Full service access will provide cost-savings to patients when compared to the same procedure in a hospital setting.
"We are excited to bring an additional option for outpatient orthopedic care to the Fox Cities area," said Lori Rexses, Administrator, Orthopedic Surgery Center of the Fox Valley. "This will provide the community an efficient and cost-effective model of care that delivers quality outcomes and superior patient satisfaction."
The OSMS Fox Valley clinic and Orthopedic Surgery Center of the Fox Valley created approximately 20 new jobs, including nurses, medical assistants and surgical technologists, among others.
"We know that convenience, quality and value are  priorities for our patients and their families," said Bernie Sherry, Senior Vice President, Ascension and Ministry Market Executive, Ascension Wisconsin. "The new Orthopedic Surgery Center of the Fox Valley delivers on all three by providing increased access to quality orthopedic services at a lower cost while keeping care close to home for the communities we're privileged to serve."
To request an appointment click here.
To find an OSMS doctor click here.