Soccer. Running. Being outdoors. Being a wife and mom. These are the things that Theresa loves to do most. When Theresa went for a 50/50 contact ball during a game with her co-ed soccer league, her leg was pulled in one direction and she went the other. She knew something definitely wasn't right, but she had no idea how her life would change.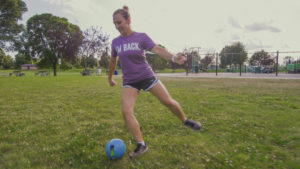 Theresa went to the emergency room after her injury, thinking she had torn her ACL. She was shocked to learn that she actually fractured her tibia, and was worried how the injury would affect her active lifestyle.
"The thought of not being able to do the activities I love and playing with my kids the way I wanted to, it scared me," Theresa said.
Due to the severity of the fracture, Theresa was told that she had to speak with an orthopedic surgeon.
"My first thought was OSMS," Theresa said. "I knew that they worked with athletes in the past and I knew that they had really good orthopedic surgeons. I figured it was my best option to get back to my normal."
When Theresa met with her OSMS orthopedic surgeon, she made it clear that she wanted to get back to running, playing soccer and being able to spend time with her family outdoors.
"He said absolutely," Theresa recalled. "We came up with a great plan, and four days later I had my surgery."
Not only was Theresa's surgeon ready to get her back to the life she loved, but the OSMS team was there to help every step of the way as well.
"They all knew that my goal was getting back to what my life was," Theresa said. "My goals were their goals. I wanted to get back to my best and they wanted the same thing for me."
After surgery, Theresa said her recovery went very smooth considering the injury she had sustained. She healed quickly and was back to her normal activities just as her surgeon predicted.
"I was told that how good my surgery went and how well the surgeon did was instrumental in my recovery," Theresa said.
Theresa said she is amazed that she can do all of the activities she loves today just as well as she could before her injury, and she is grateful that she can run and just be active with her family again.
"It means the world to me," Theresa said. "I'm back thanks to OSMS."
Read and watch more I'm Back stories here.