We have recently completed a 13,000-square-foot expansion of our clinic and the Orthopedic Surgery Center of Green Bay.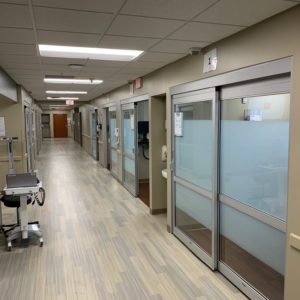 Key areas of the over 13,000-square-foot expansion includes:
Two new operating rooms in the surgery center
Three additional extended stay rooms in the surgery center
Ten additional orthopedic patient exam rooms
One additional procedure room for procedures like carpal tunnel or trigger finger release
Three additional cast rooms
Radiology and lab area expansions
This expansion is the outgrowth of the continued focus on orthopedic surgery moving from an inpatient to outpatient setting. The project began in October of 2018.
"This expansion in Green Bay showcases our dedication to patients and our constant pursuit of providing the best patient experience possible," said OSMS CEO Sandy Fragale. "People of all ages will now have expanded access for orthopedic and rheumatologic care."
The Orthopedic Surgery Center of Green Bay is located within the OSMS clinic in Green Bay. Only OSMS orthopedic surgeons perform procedures at the surgery center.
Growth is something familiar to OSMS. In 2010 when its Green Bay clinic opened, OSMS employed 85 people. Today, OSMS has grown to nearly 150 employees. OSMS recently announced plans to build a new 45,000-square-foot clinic and surgery center in Fox Crossing.